Many of us are becoming more conscious about what we purchase for ourselves, so why would our gift purchases be any different?
We've broken down some of the best sustainable gift ideas for everyone on your list, so you can spread some cheer. It's never been easier to be a green gifter. Let's go!
Eco-Friendly Gifts for HER
The Weekend Boot from Alice + Whittles
There's no better type of footwear than a cozy, all-year-ready pair of boots. It's especially lovely to lace up a pair that's made from vegan and sustainable materials! The versatile Weekend Boot from Alice + Whittles is exactly that—made ethically in Portugal using repurposed marine plastic, natural rubber (45% of which is recycled), and eco-friendly glue. These boots are made for walkin' (and saving our planet).
Prices starting from: $198.00 USD
Buy them here: Alice + Whittles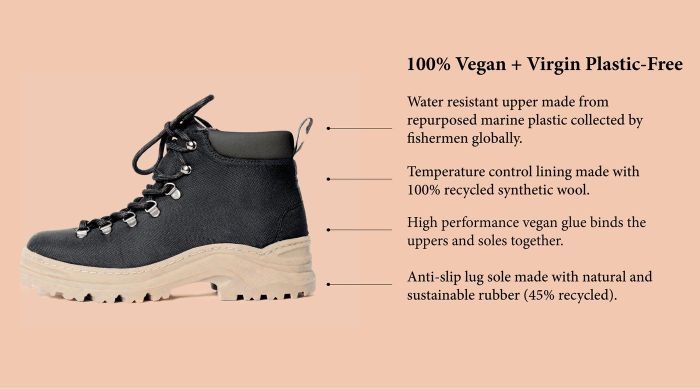 Vegan Soy Candle + Planter from Hygge light
Who doesn't love the gorgeous flicker and comforting scent of a candle? However, when the wax runs out and the flame begins to diminish, there's nothing worse than having to discard the candle jar—which, in most cases, isn't recyclable. Solving this awful problem, Hyggelight has created a vegan, soy-based, non-toxic candle that comes in a reusable ceramic plant pot! Not only that, but it's sent with a wildflower seed paper label that can be planted in the ceramic container. Two gifts in one? Don't mind if we do!
Prices starting from: $29.99 USD
Buy it here: EarthHero
Zero Waste Spa Gift Set from Butter Me Up Organics
There's nothing quite like the gift of self-care — even better when it's totally plastic-free! For planet-friendly pampering, the gift set includes an organic soap bar, organic calming bath bomb, organic salt scrub, paperboard lip balm, and an organic coconut lip scrub. All of the products are made with 100% non-toxic and edible ingredients! When's the last time that could be said about conventional body care products?
Prices starting from: $40.00 USD
Buy it here: Etsy
Wireless Convertible Stand from Nimble
Treat a loved one to tangle-free charging that won't deplete our planet! The recycled plastic and organic hemp convertible charger from Nimble can be propped up or laid flat, and it comes with an extra port to charge a second device. As an unexpected, sustainable surprise, the gift will come with a recycled plastic bag that can be filled with old tech to be responsibly recycled.
Prices starting from: $59.95 USD
Buy it here: Nimble
Upcycled Drop Earrings from Giulia Letzi + META Jewelry
Style meets sustainability with these upcycled earrings. The dangling blue and orange gems are made from upcycled plastic bottles recovered from local Virginia coffee shops! Every part of the bottle is used, and paired with recycled sterling silver or 14K gold filled hardware. Accessorizing with one of our planet's most atrocious types of waste is the best way to truly stand out from the crowd.
Prices starting from: $50.00 USD
Buy it here: Made Trade
---
Eco-Friendly Gifts for HIM
Solar-Powered Watch from Solios
Slowing down global warming while staying on time? That's a gift everyone can use! Whether the man in your life is an adventurer or city-dweller, this solar powered watch from Solios will allow them to ditch watch batteries once and for all. Just two hours in natural or artificial light will provide 6 months of energy! It's made with recycled stainless steel and for every watch, an acre of rainforest is protected.
Prices starting from: $275.00 USD
Buy it here: Solios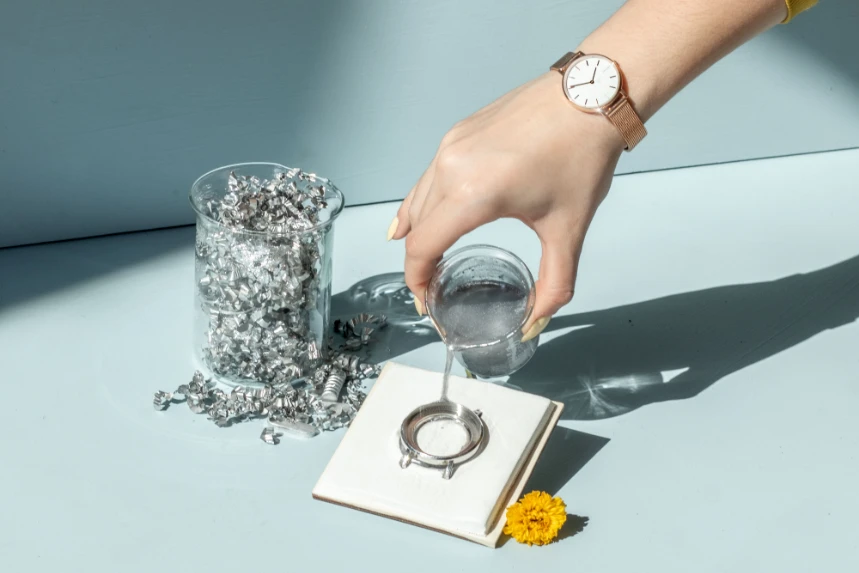 Cashmere Sweater from Naadam
Treat him to something special with an affordable, ethical, sustainable, and oh-so cozy cashmere sweater from Naadam! Supporting Mongolian herders with fair prices and our planet with sustainable goat rearing practices, this is one sweater that will warm hearts and keep him snug when the winter temperatures drop.
Prices starting from: $75.00 USD
Buy it here: Naadam
Smart Reusable Notebook from Rocketbook
A notebook for the holidays? Okay, okay, hear us out. This one is smart, featuring just 36 pages—but the to-do checklists, grocery shopping lists, and meeting minute notes can be wiped clean afterwards. Even better, the notes can be easily sent to Google Drive, Dropbox, OneNote, Slack, iCloud and more using the easy connected app! Sophisticated technology makes searching through notes easy, saving time, money, and valuable trees, of course.
Prices starting from: $27.00 USD
Buy it here: Amazon
Power Box from K-Tor
All this working from home has made for some very fidgety employees. They can take out some of that post-Zoom call pent-up energy by creating the power for their electronic devices! The Power Box is a pedal-powered generator that provides electricity to power mobile phones, GPS systems, cameras, tablets and more.
Prices starting from: $195.00 USD
Buy it here: K-Tor
Wool Slippers from Kyrgies
Nothing says the holiday season like cozying up by the fire in a pair of comfy slippers! With Kyrgies, sustainable, centuries-old techniques are used, combining natural leather with ethically-sourced felted wool. The best thing about wool? Your loved one won't have to be sheepish in their slippers, the durable fiber is also moisture-wicking, so no stinky feet smell!
Prices starting from: $69.00 USD
By them here: EarthHero
---
Eco-Friendly Gifts for KIDS
Tin Can Robot from 4M
If you think a tin can toy sounds like something out of the 1930s, think again. With this kit from 4M, kids ages 9 and up will have the instructions and accessories they need to repurpose a used soda can! Not only does this introduce a budding scientist to the importance of recycling, but it also provides a great opportunity for them to learn about robotics. In the end, they'll be left with a wobbling, walking robot—and one less soda pop can to be disposed of.
Prices starting from: $10.00 USD
Buy it here: Amazon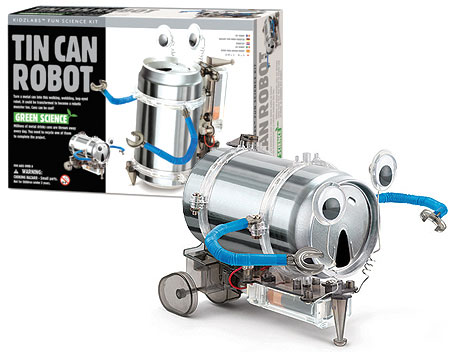 Subscription for Green Kid Crafts
Subscription services are all the rage these days. They're also a perfect gift idea for those who are a little tricky to shop for. Blending STEAM (Science, Technology, Engineering, Arts, Mathematics) and sustainability, environmental scientist-founded Green Kid Crafts has gift boxes perfect for little ones who are constantly discovering new interests. Single gift boxes, packs, and subscription gift cards are available for ages 3-10. Between learning about a farm harvest, exploring the solar system, or creating a kitchen slime lab, each box provides hours of fun (for adults, too!). The company uses eco-friendly materials, is 100% carbon neutral, and plants a tree for every order!
Prices starting from: $14.98 USD
Buy it here: Green Kid Crafts
Solar Powered Light from Little Sun
If cold, gloomy weather is dampening a child's spirits, brighten their winter months with a solar powered light! Perfect for camping, slumber parties, or reading at night with the covers pulled up, the highly efficient solar cells provide up to 50 hours of light per charge. Not only is the cute, sunflower-shaped light made with recyclable plastic, but for every purchase, another one is sold at a reduced price to someone experiencing disadvantage.
Prices starting from: $26.00 USD
Buy it here: The Grommet
Eco Stars Recycled Crayons from LuAnn Foty
From the comfort of her home among the Colorado mountains, LuAnn Foty is quite the magician. Taking discarded crayons, she transforms them into 'new' star-shaped art essentials. A child in your life can create their own magic with these recycled crayons, which are handmade with love using crayon nubs and broken pieces from American schools and organizations. Life is about using the whole box of crayons, after all!
Prices starting from: $14.70 USD
Buy it here: Uncommon Goods
EcoBaby Dolls from GaiaTree
GaiaTree has taken one of a child's most treasured gifts and put an eco-spin on it. Baby Cora and Baby Brooke are made with 100% natural, non-toxic rubber. Dressed in cotton clothes, the natural baby doll is free of phthalates, BPS, PVC, and BPA. If it doesn't end up being passed down to a younger sister or brother, it's fully biodegradable!
Prices starting from: $79.99 USD
Buy it here: GaiaTree
Spread Some Eco-Cheer this Holiday Season
That's a (gift)wrap! Speaking of which, consider using recycled newspaper, fabric scraps, or bows and wrapping paper from previous years to adorn your green gifts. Then, bask in the holiday season glow of celebrating with gifts that truly keep on giving. At Rhythm, we'll be basking in the glow of keeping the lights on with energy plans backed by 100% renewable energy.