Whether you're trying to make your home more energy efficient or you're just tired of having to pay high heating and cooling bills, a smart thermostat is a great way to gain more control over your energy usage. There are many different smart thermostats on the market, so it's important to do your research before pulling the trigger on one of these smart home devices. We've done the homework for you and compiled a list of the best smart thermostats to consider for your home. Take a look at the list below and happy hunting!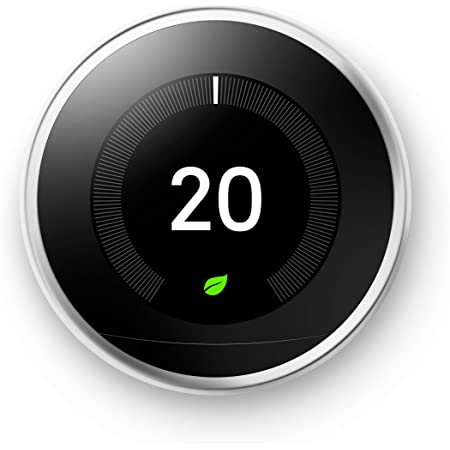 Google Nest Learning Smart Thermostat
Price: $249
Highlights
Built-in features that learn your schedule to optimize temperature settings throughout the day

Nest Temperature Sensors are available to moderate each room's temperature

Works with Amazon Alexa, Google Home, Apple HomeKit and Samsung SmartThings

Saves the average homeowner 10-15% on heating and cooling bills per year
The Google Nest Learning Thermostat will learn your unique heating and cooling preferences to create an optimized schedule that maximizes energy efficiency. In other words, this smart thermostat will do all the work for you to determine the most efficient, cost-effective way to keep your home comfortable. The thermo stat uses Nest Temperature Sensors (you can purchase additional ones to place in various parts of your home) to ensure comfortable temperature settings.
With its modern design, this smart thermostat will fit with nearly any type of home decor. In fact, it is available in about a half-dozen finishes, so you're sure to find the perfect one for your home.
As long as you have a compatible HVAC system, the Google Nest Learning Thermostat is easy to set up.
Ecobee Smart Thermostat
Price: $249.99
Highlights
Voice control

Siri and Alexa integration

Can be paired with remote sensors

Control from anywhere with your iOS or Android device

Can potentially save you up to 26% on your annual energy costs
Looking for a smart thermostat that you can jam out to music with, that gives you the latest news and one that controls your home's smart lights? The Ecobee Smart Thermostat has got you covered. In addition to adjusting your heating and cooling settings, this smart thermostat will become your best friend overnight. Like other smart thermostats, the Ecobee can be paired with remote sensors for even more tailored energy solutions.
While you can use your voice to control the Ecobee Smart Thermostat from the comfort of your couch, there is also a user-friendly mobile app. Within the app you can explore things like additional energy data, such as the temperature in each room where you've placed a remote sensor. It is also compatible with Alexa and Siri.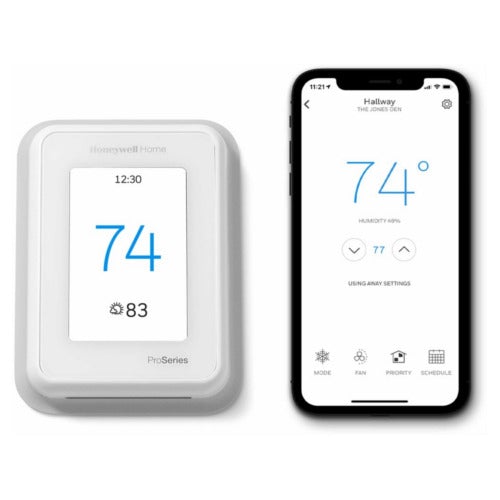 Honeywell Home T9 Smart Thermostat
Price: $249.99
Highlights
Google and Alexa compatible

Works with Smart Room Sensors

Easy-to-use app

Automatic alerts when temperatures swing or it's time to change your air filter
Another top ranked smart thermostat is the Honeywell Home T9 Smart Thermostat. This attractive smart thermostat works with a variety of other smart home devices, including Alexa and Google Assistant. One unique feature of this smart thermostat is that it comes with remote temperature, proximity, and humidity sensors that allow you to adjust the temperature from anywhere and stay cozy in the rooms that matter. You can also set up automatic alerts that will tell you when temperatures rise or fall below your chosen threshold.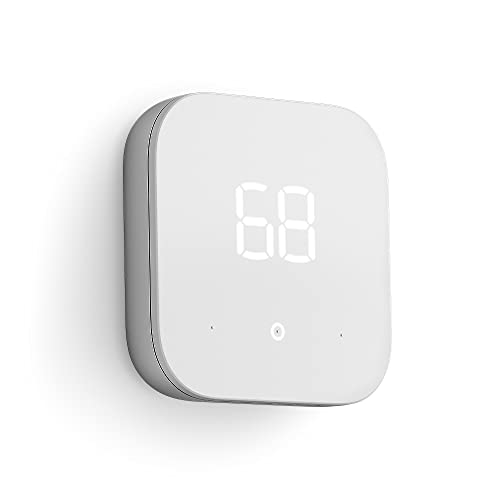 Amazon Smart Thermostat
Price: $59.99
Highlights
Affordable

Alexa compatible

Minimalist, sleek design

Can help you save up to $50 on your annual energy bill
The Amazon Smart Thermostat is a favorite among consumers due to its affordability and Alexa functionality. With a simple, sleek design, this smart thermostat has a convenient touchscreen interface that makes changing your heating and cooling system settings a breeze. With Alexa integration, you can control your HVAC system with your voice. Some tech review sites even say this smart thermostat can help you save up to $50 a year on your electric bill.
We hope this list of smart thermostats helps you on your journey to a more energy efficient household. If you live in Texas and you're interested in switching to a renewable energy plan, be sure to check out our green energy plans. From solar energy plans to wind plans, we make going green easy and affordable.