In the areas of Texas where the energy market is deregulated, this dynamic is more complicated. Many Texas electricity providers charge their customers a minimum usage fee based on the kilowatt-hours (kWh) of electricity they use, but what is a minimum usage fee? 
 What is a minimum usage fee?
  A minimum usage fee (AKA a minimum usage charge, minimum usage requirement, monthly service charge, or customer charge) is a monthly fee energy companies charge if your energy usage is less than a certain amount in a month. Although this energy threshold can vary, 500 kWh and 1,000 kWh of usage are more common thresholds. And it's usually hidden in a plan's Electricity Facts Label (EFL), the document that provides electricity plan details.  
 Unfortunately, these electric company minimum usage fees are more common than you would think. Roughly 70% of retail energy providers in the Houston area charged a minimum usage fee in 2015, according to a Houston Chronicle investigation. Today, $9.95 is a common cost. For example...
 In January and February of 2021, Discount Power charged a $9.95 minimum usage fee on their Wise Buy 24 plan for customers who consumed less than 1,000 kWh a month.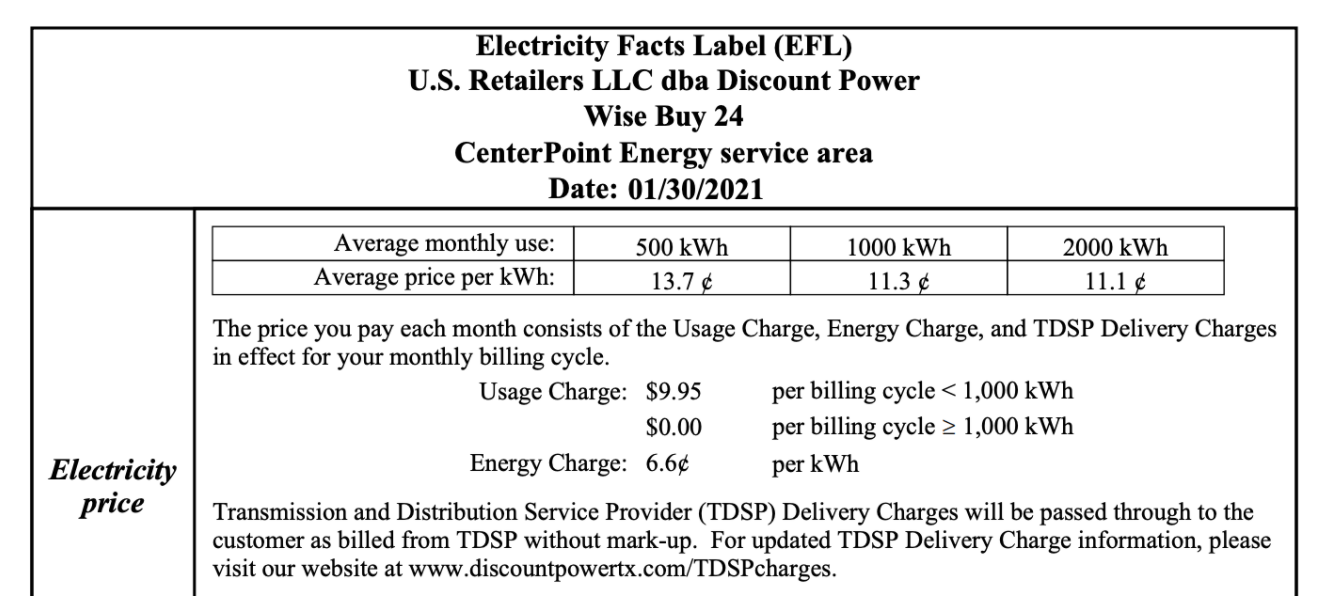 In February 2021, Spark Energy's Price Protect 24 plan charged an $8.99 minimum usage fee for under 1,000 kWh a month. 
Who Do Minimum Usage Fees Affect? 
According to recent data from the Energy Information Administration, the average Texas household consumed around 1,140 kWh a month in 2019.  So many (especially those that live in a spacious house with a partner and children) are unlikely to have usage below 1,000 kWh in a month and therefore could easily go their entire lives without incurring a minimum usage fee on their electric bill.  
However, those who live alone in small apartments or houses are far more likely to fall short of 1,000 kWh per month, even without active conservation.   And those with home solar panels could face frequent minimum usage charges if they produce enough energy to keep their consumption below 1,000 kWh per month. 
Many consumers purchase Texas electricity plans without realizing how often they use below the minimum amount. The result? These consumers end up paying a higher effective rate per kWh when they use less than the minimum amount. This means that electric providers essentially penalize customers for not using enough electricity.  
 Don't Buy the Electric Company Excuse for Minimum Usage Fees 
Some Texas electricity providers have claimed that minimum usage fees are necessary to prevent losing money on customers with low electricity usage by covering fixed costs. This assertion might be fair if their  kilowatt cut-off points  were  much lower than the 500 to 1,000 range.  But, even in that  hypothetical  situation, the electric company  would  still  profit  from  the customers who use more than 1,000 kWh a month.  
The simple reality is that minimum usage fees are a method of sneakily bilking  Texans who dare to conserve  electricity.  Don't buy big energy companies' lame excuses.  
To learn more about how to read your electric bill and common charges visit our blogs:
How to Avoid a Minimum Usage Fee 
Growing up, many of us saw public service announcements that encouraged the conservation of electricity. Remember to turn off the lights. Put on a sweater instead of cranking up the heat. These messages implied that electricity conservation was a responsible habit, something to feel good about and to be rewarded for.  
For environmentally-conscious consumers, saving energy is about saving the planet. Reducing electricity consumption lowers the demand for non-renewable resources that can impact the environment and contribute to climate change.  
 Perhaps, most importantly, saving energy is supposed to mean saving money. Less usage should lead to a lower bill. This logic holds up in most parts of the U.S., but not everywhere.     
If you live in one of the deregulated energy market territories in Texas, find an electric provider that doesn't charge minimum usage fees.  And while you're at it, make sure they don't charge or hid other fees like: 
Agent Assist Fee (extra charge for asking a customer care representative to help you make a payment on your monthly bill) 

Disconnect Notice Fee (charging you for the time they spent saying they're going to disconnect your electricity)  

Document Processing Fee (you have to pay for requesting paper copies of documents)  
 At  Rhythm Energy, we don't charge our customers any hidden fees (including minimum usage fees): 
We charge late fees if your payment is past due or if there are insufficient funds in your account.    

We charge fees if you leave us after your first 30 days, but before your contract is up.   

We pass along fees and charges without markup from your wires provider for use of the power grid.    

We charge you a disconnect transaction fee if Rhythm Energy disconnects you for non-payment.
That's it. Those are our only energy plan fees.  
Plus, our electricity plans are 100% Texas renewable energy. Because we care about the planet, so we would never punish you for conserving electricity.