If you've lived in Texas for long, you know that picking an energy plan is never something you look forward to. The reasons why vary, but most will say something about the overload of information. Sure, energy providers give that information to try to help, but it is usually unclear and overwhelming.
That's where our team of experts at Rhythm Energy comes in. We'll kindly point you to the info you need so you can make the best choices for your electricity plan, usage and wallet.
What's an EFL?
An Electricity Facts Label (EFL) is one of the most important documents to look at when you're picking a Texas electricity plan. You'll sometimes see it with other names—like Facts Sheet, for example. Legally, all electricity providers must have an electricity facts label for each plan they offer. It'll look something like this...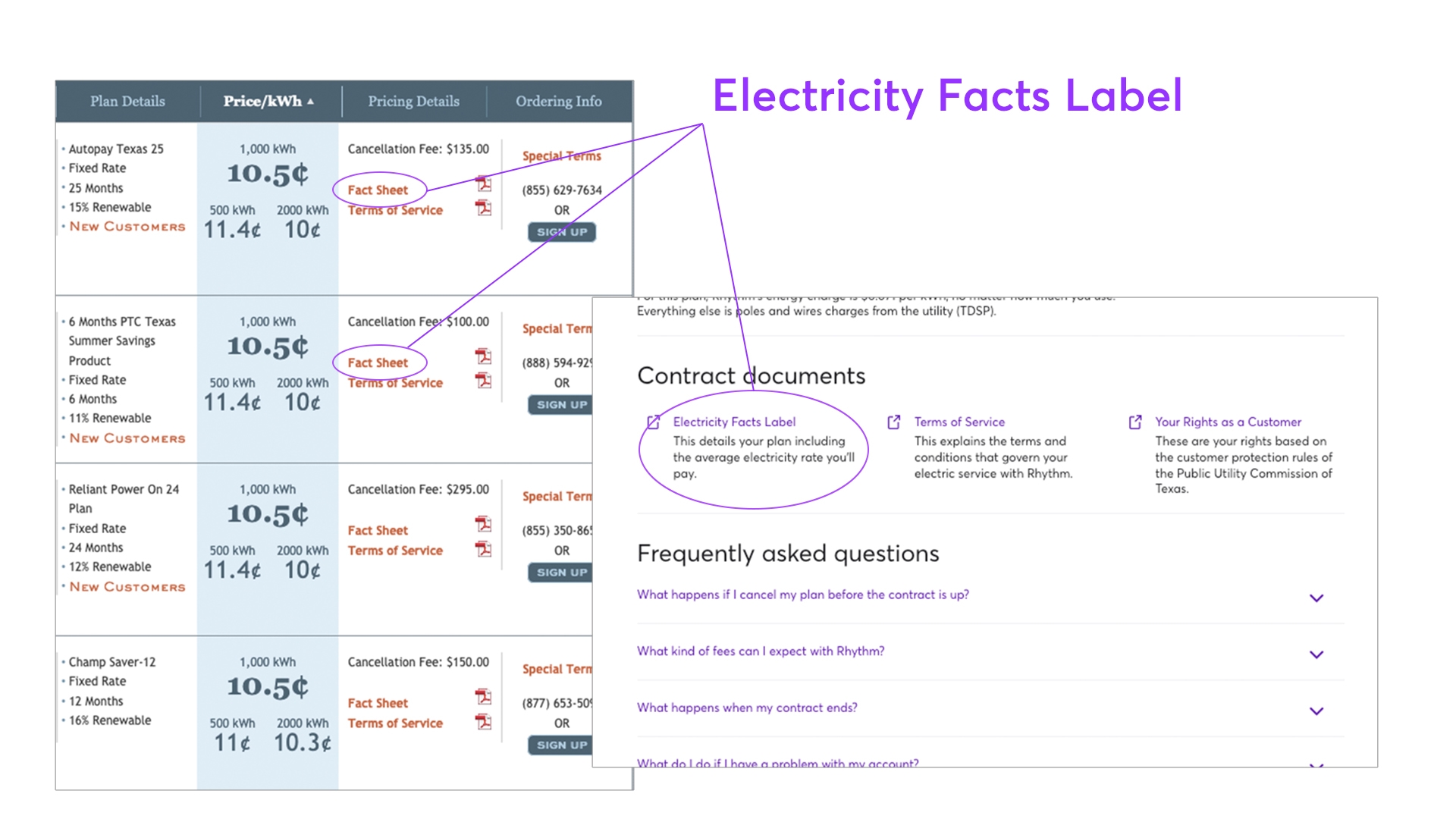 Once you find the electricity facts label, always, ALWAYS read it through. It's not the most exciting document, but it's the most important one when it comes to choosing the best energy plan. An electricity facts label is required to include:
The price of energy rates

The type of electricity plan (fixed or variable)

The length of the contract term

Termination fees

Other penalties and fees

Renewable content
The Electricity Price
An electricity facts label must feature energy rates. The price of the electricity plan must be shown at three usage points: 500 kWh, 1000 kWh and 2000 kWh. If you're not sure about your energy usage, just look at some of your old electricity bills. That should give you an idea of how much energy you use.
But, how can you know if a plan is priced in a straightforward way?
Straightforward energy plans have a decreasing average price per kWh as you increase usage. Meaning, the price per kWh that you pay will get cheaper as you consume more. If that's not the case, it's not a straightforward plan.
Unless you want to take time to really understand how electricity plans are priced, we would recommend staying away from plans that are not straightforward. Prices should decrease with increased usage because some elements of the overall price are assessed per kWh used and other elements are just a fixed cost per month. Because the price is quoted in cents per kWh, the fixed cost per month is spread out over more kWh when you use more—meaning your cents per kWh goes down.
The takeaway: Stick with straightforward pricing plans. Then pick a straightforward plan with rates you are willing to pay.
Learn more about electricity plans by visiting our blogs:
Electricity Plans
There are typically two types of electricity pricing plans – fixed and variable. A fixed-rate plan charges the same rate per kWh used for the term of your contract period. No questions asked. A variable-rate plan is month to month in terms of pricing, meaning your energy rate can fluctuate with each bill. If you take this route, your retail energy provider is required to publish the next month's rate ahead of time.
The takeaway: Most customers who are looking for reasonable energy prices and are willing to stay with an electricity provider for a year or more should select a fixed plan.
The Contract Length
Shorter-term energy plans tend to have what we in the biz like to call "teaser rates." This simply means you're on a low rate for a short period of time, but when that window closes, the price skyrockets. If you decide to go on a shorter-term plan, be diligent in monitoring your contract and upcoming payments. Even a month or so without oversight can result in an electricity bill that is out of this world.
The takeaway: Stick to a contract that's at least a year-long, unless you have a specific reason for a shorter-term contract (like you're moving, for example). That way, you'll have a rate you can count and won't get surprised by a huge bill.
Termination Fees
Most fixed-rate electricity plans will have termination fees. That's because electricity providers purchase electricity on behalf of their customers and need to be sure that customers will be there to use that electricity. It's simple supply and demand.
But sometimes things change. If you think there's a chance you'll want or need to leave your Texas electricity provider, think about the following:
If you're moving within the same utility delivery area, most electricity providers allow you to transfer your electricity contract to the new address without penalty.

In Texas, if you're moving and can provide proof of a change of address, your electricity provider cannot charge you an early termination fee. It's a Public Utility Commission of Texas rule, in fact, and is written in the fine print on your electricity contract.
The takeaway: Think about the chances that you'll need to break your contract. If the chances are next to none, the fee amount shouldn't matter.
Other Fees and Penalties
Some electricity providers know they can make money by charging fees and penalties. And, unfortunately, most customers don't realize that – often these items are in the fine print. But the electricity facts label is required to outline fees and penalties, another reason to read them. For example, some energy companies charge you a fee for every call you make to customer service, which is insane. If you're an online-chat-only person, you have nothing to worry about. But if you're not and you weren't aware, those charges can add up. Fast.
If an electricity facts label says that fees are listed in the Terms of Service (TOS), it is always worthwhile to open up the TOS document. The link to the TOS document is usually listed right next to the link for the EFL.
The takeaway: It's nobody's favorite pastime, but read this section of your EFL to learn exactly what the fees might be.
Renewable Content
This section of your electricity facts label explains the percentage of your electricity that comes from renewable energy sources—if any. If where your electricity comes from is important to you--which it is to us—be sure to check out that section.
The takeaway: If your energy matters to you, take a look at what Rhythm Energy has to offer — Our plans are backed by renewable energy. You'll get a predictable, competitive energy rate without the hassle or hidden fees.