New TDSP Price Changes Effective September 1, 2022
As of September 1, all Transmission and Distribution Service Providers ("TDSPs") that serve the Texas deregulated energy markets have increased their variable energy delivery rates. Rhythm, along with other retail energy providers ("REPs"), passes through these rates, as well as the TDSP fixed monthly base charge, to our customers without markup. This means that the average rates paid by our customers will increase, but not because of anything we did. Your contract rate (Rhythm Energy Charge) will remain intact per your contract with Rhythm. TDSPs rate changes typically occur twice a year, around March 1 and September 1, so this is not unusual. Unfortunately, this rate increase is more significant than normal.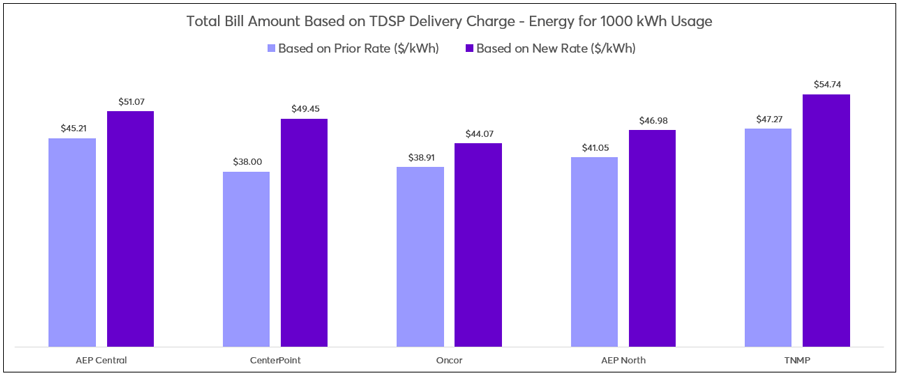 Providing electricity to Texans is a joint effort between the local electric utilities or TDSPs, and your REP, like Rhythm. The TDSPs are responsible for maintaining the wires and poles that keep the power flowing to you. The REPs are responsible for sourcing the electricity on your behalf, creating electricity plans, and serving you as a customer.
On your bill, you see different line items broken out to show REP (Rhythm) and TDSP (TDU) charges:

TDSP charges are the same for all customers and are not controlled by Rhythm. The five TDSPs in Texas get approval from the Public Utilities Commission of Texas (PUCT) to change their rates. These rates are affected by the costs of running their business. For example, big storms make it more expensive to maintain distribution wires and thus can increase rates.
In our opinion, the best thing you can do as a customer is take steps to improve your home's energy efficiency. After all, if you use less power, TDSP rate changes will affect you less.
Check out Rhythm Energy's tips on how you can use less energy and lower your electricity bill.
If you have any questions, feel free to contact us at support@gotrhythm.com.