There is increasing demand for electric vehicle (EV) charging stations as EVs become more popular. While not yet as common as the traditional gas stations, the network is growing. A number of mobile apps have risen as the best tools to help EV drivers locate charging stations and establish driving routes that match their needs and fit their schedule.
User-friendly, flexible, and convenient, here is our list of the best EV charging apps available for drivers today.
Available for free on iOS & Android
PlugShare is a free app for EV drivers to connect, find charging stations, and leave reviews. With more than 300,000 active users, PlugShare is one of the most popular EV charging station locater apps and has a database with over 140,000 EV charging stations located throughout the US and Canada.
PlugShare boasts a bunch of convenient features. EV drivers are able to securely pay for charging services via the app at participating charging stations. With user reviews and real-time updates, EV drivers can use PlugShare to search for the best-rated charging stations and check their current availability.
On top of sharing information on public charging stations, some EV drivers also share their private residential charging station to assist the PlugShare community on those longer drives between public charging stations. If drivers are preparing for a road trip, the PlugShare Trip Planner helps EV drivers map out their route to stay reliably charged throughout the drive.
Available for $2.99 on iOS & Android
The EVHotels app saves drivers time with a search that combines EV charging and lodging on one platform. This simplifies travel plans and directs EV drivers to the hotel option that best suits their preferences. By using the app's dynamic legend tool, drivers can easily identify and make reservations for hotels that have EV charging, do not have EV charging, or that are within walking distance of EV charging stations.
EVHotels has partnered with over 170 international hotel brands. Users can even customize their hotel preferences to see their favorite hotel brands.
Tiered membership program available on iOS & Android
The EVgo app helps EV drivers connect with the US' largest network of DC fast charging stations. While not all electric vehicles are compatible with DC fast charging, those that are can get sufficiently charged in under an hour.
EVgo has three payment plans: pay-as-you-go, EVgo Membership, and EVgo Plus. There is a $6.99 monthly subscription for the EVgo Plus membership, serving as a reasonable option for the driver who's in need of regular charging. All three membership plans include rewards points and the option to schedule reservations. Some states' EVgo stations charge per minute while others charge per kWh. Any way you slice it, the membership model tiers make the system convenient and affordable for drivers in need of reliable fast charging options.
EVgo's 800+ charging stations are powered by clean, renewable energy, making them signature infrastructure for the nation's transition to an electrified transportation sector and clean energy grid.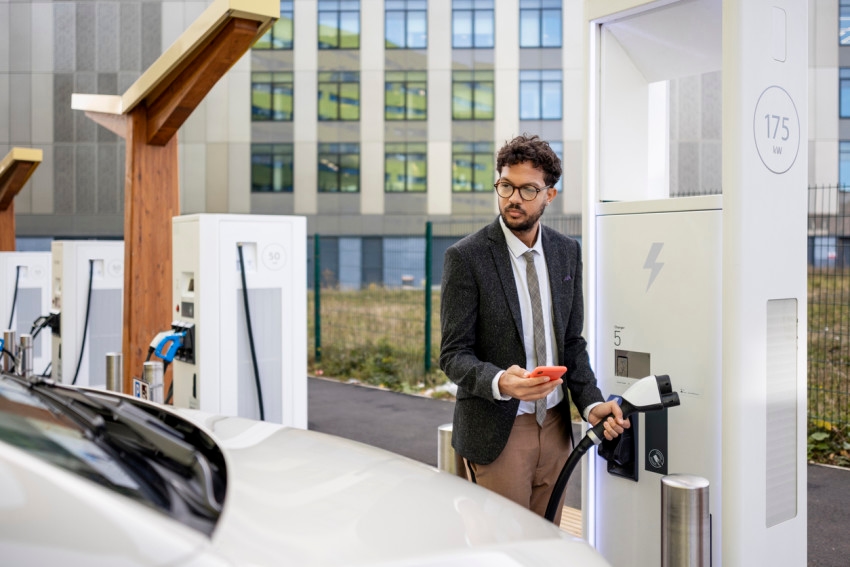 Available for free on iOS & Android
The ChargePoint app allows EV drivers to easily find nearby charging stations both within the ChargePoint Network and from other major charging networks. The app's connectivity to the ChargePoint stations enables EV drivers to pay with a tap of their phone and also receive notifications and check the status of their vehicle's charge.
The ChargePoint app also allows EV drivers to connect with their ChargePoint home charging station and take advantage of the station's smart features. Users with a home ChargePoint setup can remotely activate EV charging, program charging to begin during times with optimal electricity rates, and view their vehicle's charging history.
Available for free on iOS & Android
ChargeHub can be used from a web browser or the app to locate nearby charging stations and plan trips to reliably travel long distances. With more than 100,000 users, EV drivers can use ChargeHub to read reviews, see real-time availability of charging stations, and connect with other app users about access to private home charging stations.
App users can create custom profiles to stay updated on new charging stations popping up in their area or to save filtered searches for quick access to the most relevant EV charging options for them. With the app's interactive map, users can leave comments, rate stations, and upload photos to provide detailed information on the user experience of different charging stations.
Available for free on iOS & Android
EV Connect offers an intuitive and sleek interface that allows drivers to search for nearby charging stations based on location, availability, provided power level, and accessibility. Drivers can conveniently initiate charging through scanning a QR code, and drivers can be notified of charging completion via email or the mobile app.
The EV Connect app also provides drivers with 24/7 support so they can have peace of mind throughout all hours of the day.
Available for free on iOS & Android
Chargeway uses a number and color-coded system to help EV drivers easily identify the charging station that meets their needs.
The color scheme differentiates between the different charger connector types: the J1772 connection (the most common, and universally used by all Level 2 chargers other than Tesla); the CHAdeMO connector for Level 3 fast charging; and the Tesla connector (Tesla has a unique setup, but their vehicles also come with an adaptor that allows Tesla drivers to connect to charging stations outside the Tesla network).
The number system suggests the charging speed — the higher the number, the faster the station charges the vehicle. The number scale ranges from 1 to 6, with 1 providing a trickle of power that would take roughly 8 hours for 40-mile range and 6 offering impressive electrical flow capable of charging an EV to a full 200-mile range in under a half hour.
Whether setting out from the home or taking a weekend trip out of town, these apps steer drivers in the right direction by providing easy access to reliable charging stations. If you live in Texas and own an EV, be sure to check out our EV electricity plans made from 100% renewable energy. If you have more questions about electric vehicles, visit our EV FAQ page. To research and compare EVs by range and price, visit our Electric Vehicle Hub.