As a proud supporter of all things green, clean, and environmentally sound, Rhythm's team has been looking forward to Earth Day 2021 since we launched. Together, on April 22, humanity will form an alliance around the globe to emphasize the importance of eco-friendly changes that can impact all our lives in the years to come.
Let's Restore Our Earth (and Texas)
EARTHDAY.ORG's theme this year's Earth Day is "Restore Our Earth," which will take center stage for big picture discussions on environmentally friendly lifestyles, emerging green technologies, and innovative thinking that can restore the world's ecosystems.
We are all in on this theme but believe that in order to "Restore Our Earth," it's going to take a village. It's why we not only participate in Earth Day, but are committed to helping restore, revive, and rejuvenate our planet 365 days a year by offering our customers only 100% renewable energy plans powered by wind and sun.
And it is also why, we are using this Earth Day to partner with fellow Texans to make a local impact through the restoration of plant life all over the state.
As a Texas-based company, we know firsthand how tough the winter storm was. Gardens were destroyed, beautiful trees were stripped bare, and the warmth of the sun was in hiding for weeks. And while that has certainly had an impact on some of the natural beauty of Texas, it has had an even more significant impact on the natural inhabitants of Texas - pollinators or as many of us may know them: butterflies, bees, hummingbirds, and moths, alike. They need our help! But first let's learn a little more about them, so we can understand why.
All About Bees
Let's talk about honeybees. Unfortunately for our little black and yellow striped friends, humans typically have had at least one painful encounter with a honeybee in their lifetime. Even the soft whisper of a "buzz" by our ear is enough to make any of us cower and panic. But the good news is, first impressions can often be wrong, and that's why we want to redeem these small but mighty green-scene saviors.
Blossoming flowers and honeybees go together like peanut butter and jelly. Without one, our ecosystem just wouldn't be the same. Plants rely heavily on pollinators such as honeybees to reproduce, which is why they find new ways to keep attracting them back. Whether it's the lovely scent a flower gives off or the lively bright color palette, honeybees will surely come buzzing when blossoming begins. Honeybees will gather pollen from the stamen of a flower which will then seamlessly glue itself to the hairs of the bee's body. When the bee continues to the next flower, some of the pollen will rub off onto the next.
According to Greenpeace.org, honeybees perform about 80 percent of all pollination worldwide, while a single bee colony can pollinate 300 million flowers each day. Even our most tasty foods such as watermelon, strawberries, peaches, and pears depend on the pollination of honeybees.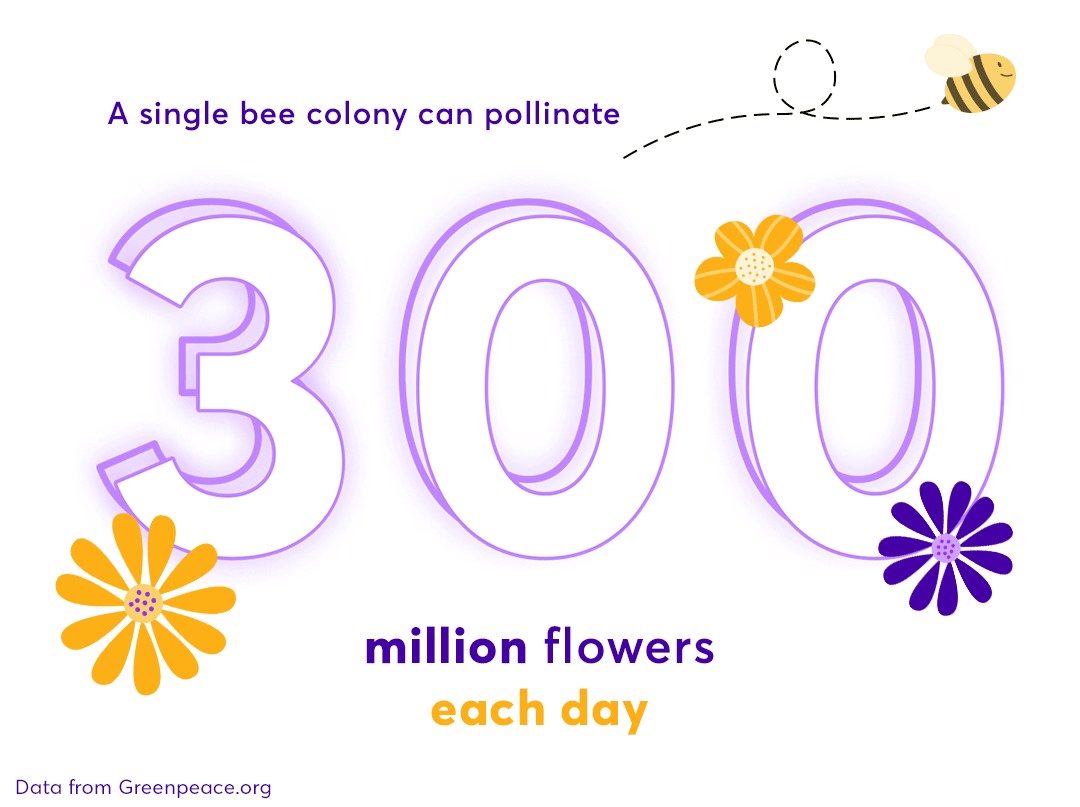 So, what do you say, can we give these flying little environmentalists another chance?
Pollinators Need Our Help!
This brings us back to the Texas freeze. Although some wildflowers were able to slowly return once the Texas freeze subsided, there wasn't enough food sources for pollinators to continue spreading pollen.
So where do we go from here? We're glad you asked. This Earth Day 2021, Rhythm is putting a little bit of flower power in your hands when you join us. All new customers who sign up between April 15th and April 30th will receive a wildflower seed kit and the chance to play a major role in Mother Earth's special day. We want these wildflower seeds to represent two things: hope and growth. These seeds will give you the opportunity to add value to our beloved pollinators and will help them get through recovering times while other plants regain their health. The seed kits will include an array of 25 wildflower species, specifically selected to support, sustain, and delight the pollinators in your yard, garden, or local community. There you have it. The sun is now shining, your gardens are now fruitful, and the time is now to help "Restore Our Earth." Who wouldn't want to support their local pollinator, right?
We want to see photos of how you are going to utilize your flower power! Make sure you tag us on Facebook, Instagram, and Twitter at @gotrhythmHQ or tag #TXFlowerPower in your post.
Let's all promise to come together to make a difference, one seed at a time. Happy Earth Day.